Independence Arch, Barbados
This page will be updated shortly with more detailed information - check back soon
The Independence Arch in Barbados was designed by Grantley S. Romany and built in 1987 to commemorate Barbados' 21st Anniversary of Independence gained on November 30th 1966. Until Independence was achieved on November 30th 1966, Barbados was a British colony. It is located on the southern end of the Chamberlain Bridge in the capital city Bridgetown. Just to the east of the arch is Independence Square.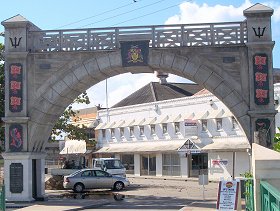 This dignified arch spans the southern end of the Chamberlain Bridge and is directly opposite the Parliament Buildings of Barbados. On the Arch are projections and displays of all of the National Emblems of Barbados. The pillars showcase two important national symbols - the flying fish and pelican - along with the Pride of Barbados flower and the Broken Trident from the National Flag. Across the top of the arch is the islands Coat of Arms bearing the national motto 'Pride and Industry'. At the base of the arch is the National Pledge. The national pledge is inscribed on each column of the arch. Each side of the arch carries a painting of the Right Excellent Errol Walton Barrow, late Prime Minister of Barbados and now national hero, who was instrumental in leading the island into full independence in 1966.
During November (the month of celebration of Barbados' independence) the Independence Arch is lighted in the national colours of Blue and Gold.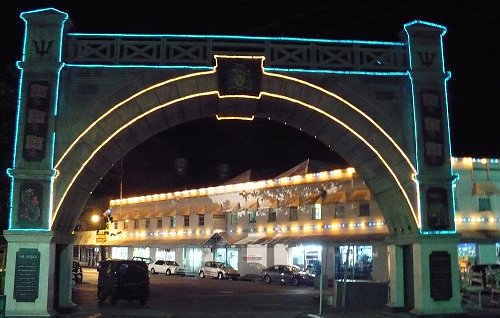 See also:
http://www.barbados.org/independence-arch-barbados.htm
http://www.funbarbados.com/sights/S_IndependenceArch.cfm
http://www.barbadospocketguide.com/our-island-barbados/monuments/independence-arch.html